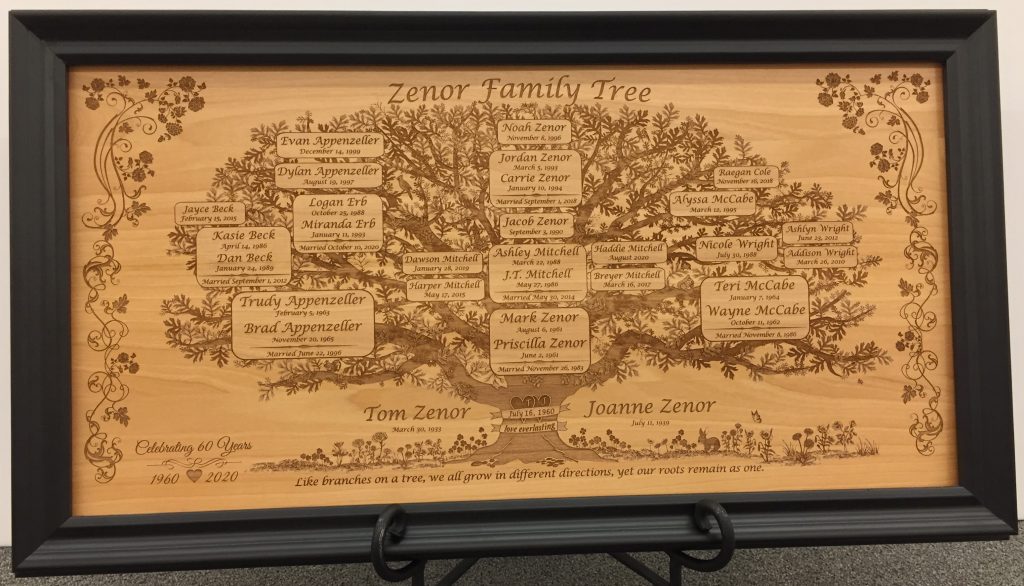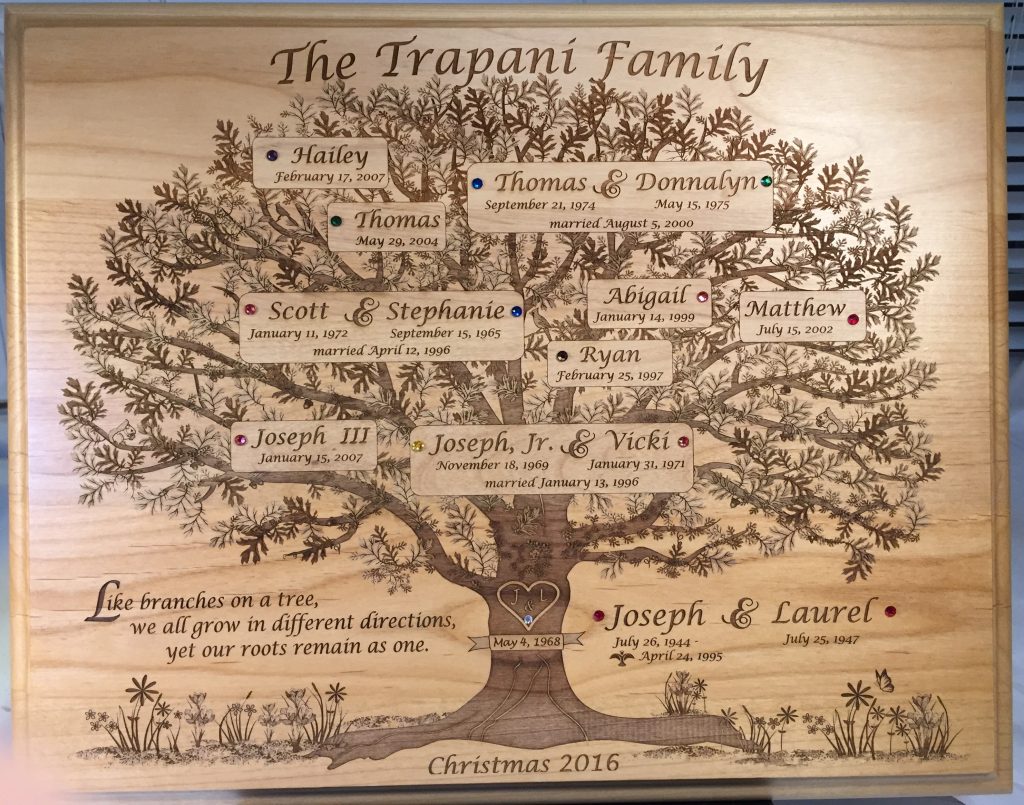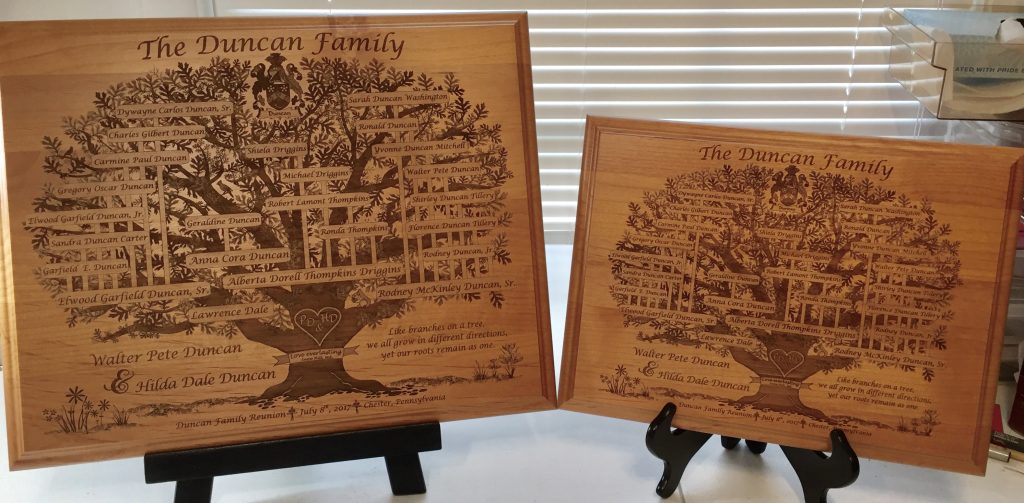 Family Tree Plaques – Laser Engraved
Because all families are different, each family tree plaque is a unique work of art; an heirloom to treasure through the generations. Although completion time varies, expect it to take about 2 weeks to receive it; maybe less, maybe more–it depends mostly on whether you have all your information ready.  The base price for the 15 x 12″ plaque includes 10 names with or without birth dates and/or wedding dates; The 24 x 12″ framed tree includes 16 names. For additional names, add $5 per name. It is imperative to the design process that relationships–parents to children to grandchildren– be clear and easily visualized. This is what takes the most time, and the more names, the more time, hence, more cost. Birthstones–Swarovski crystals– can be added, and will be color-keyed to the event month, insofar as possible. The 24″ by 12″ cherry or alder wood sheet comes professionally framed and ready to hang. The 15″ x 12″ has routed edges and is keyholed in the back and ready to hang, as well.
Split families can be accommodated by a two-tree or split-trunk design. All families are different–deaths, divorces, remarriage, blended families–but they all can be accommodated by thoughtful design. I rarely charge extra for artwork — it's important to me that the finished piece is beautiful, unique and specific to YOUR family. Dad grew roses? No problem: I'll create rose art for the plaque. Yours is a farm family and you want wheat fields and cows? Ok, I can do that. I can't always manage to create whatever–we're dealing with limited variables, after all, but I'm willing to try. And in most cases, there is no extra charge for custom art or homilies, etc. However (and there always has to be a however, doesn't there?), if the art request is extensive, exotic or time-consuming, there would be an extra fee…a small one, and once I have an idea what your wants are, I can quote a fee. For instance, a small (3×5″) picture frame slot would be an extra $20.
On average, it takes about a week, sometimes less, from the time I get the names and dates and payment/deposit, till I have the proof ready for you to look at/approve. Once I receive the go-ahead, it takes 3-7 days to finished product. So: it can take as few as 7 days, or as many as 14 days for the plaque to be finished. It doesn't leave my hands till it is perfect.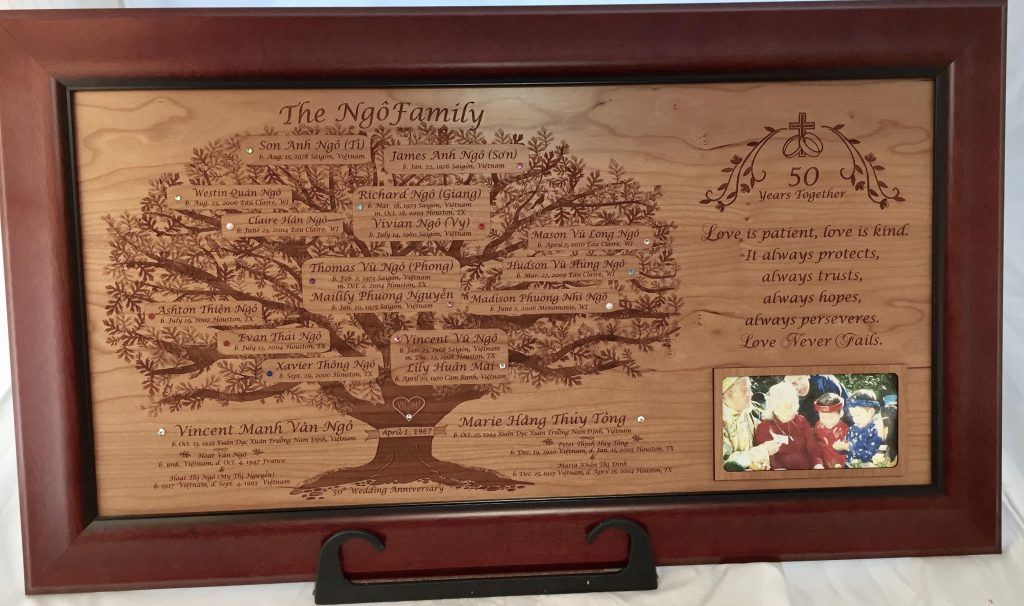 The process goes like this: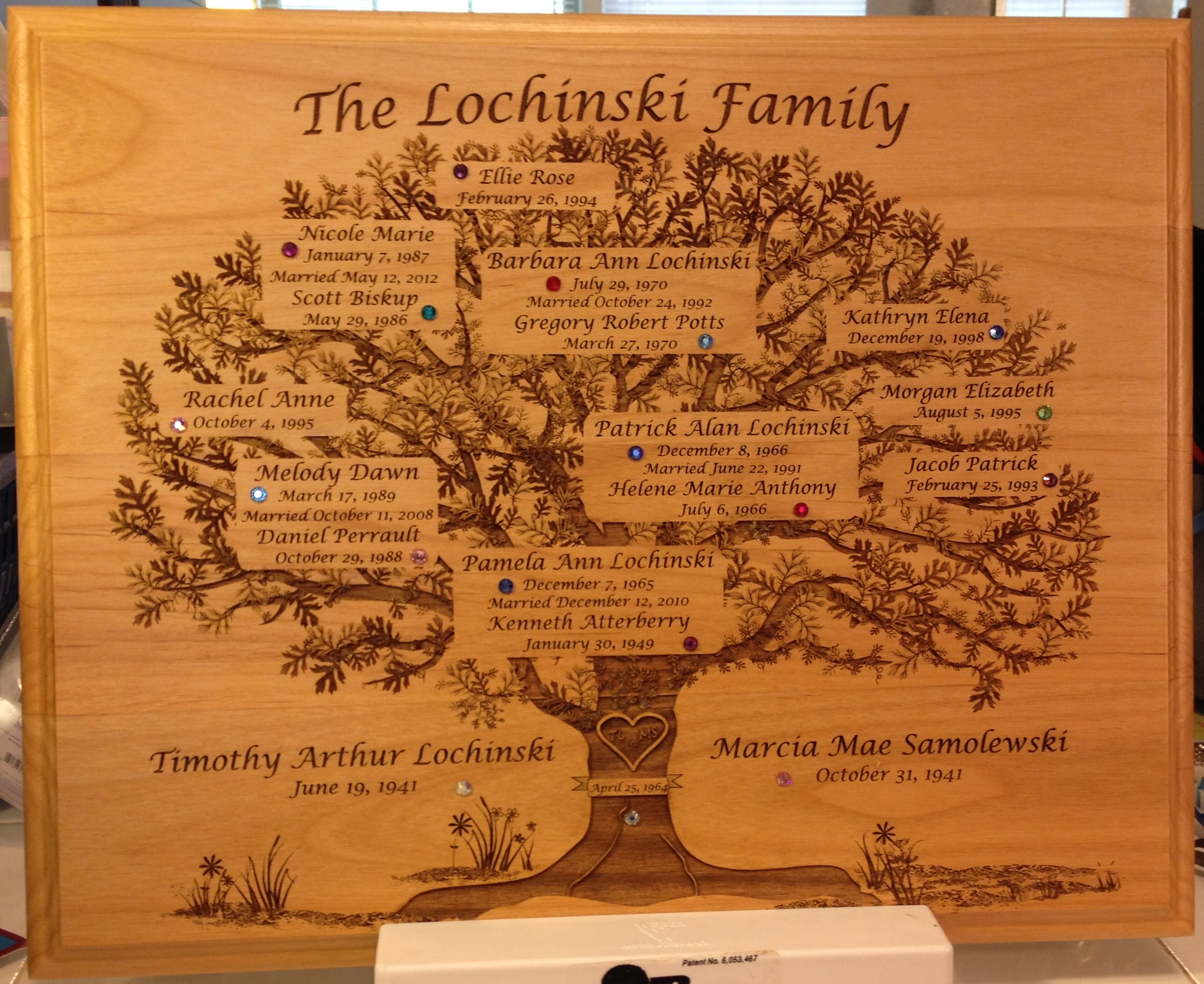 1. You send all the names and dates you want on the plaque, plus art ideas and/or homilies, poems, etc., and make payment of at least one-half the total. I can invoice and accept payment via Paypal (laserfairy@hotmail.com), or through my Etsy shop (FamilyTreePlaques.Etsy.com), your choice. Full payment may be made if you prefer. To partial pay through Etsy or to receive a PP invoice, call or write.
2. Within 10-20 days, you will receive a proof to examine, to make any necessary corrections or modifications. Remember: Each plaque is unique and is configured to your family. Sometimes it takes a bit of time to get the design just right. I strive for quickness, but I demand accuracy and beauty in design.
3. Once I have your approval, I will begin engraving. Then the birth crystals are affixed if purchased.
4. I send you a photo of the finished plaque just before packing it up for shipment. It is at this point I expect the final payment of any balance due.
5. If full payment is made before 3 pm (EST), it will usually ship out the same day. Otherwise, it goes out the following business day.
6. Package is insured and goes by USPS priority mail. Packed and ready to ship, the weight for the 12 x 15 plaque is about 5 lbs, for example.
A word about these photos: The variations in coloration are all due to the various lighting used to take the photograph, i.e. florescent, LED, incandescent, direct sunlight, and indirect sunlight. And, of course, your monitor is another factor. The plaques are neither yellow nor orange…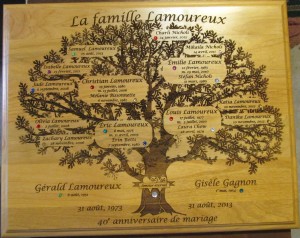 I'm not such a great photographer, and I'm way behind the curve on building pretty web pages, but I am a great engraver and I would be quite pleased to create for your family a beautiful heirloom-quality keepsake that celebrates this milestone in their lives. It is most important to get all the details right, and sometimes it is easier to clarify when speaking directly so you may call me at (229) 563-6366 with your questions, and specifics, or to begin the process. I am happy to take your call between 10:00 a.m. to 7:00 p.m., Eastern time zone.
Click on the Images to enlarge them.
Rush jobs with really short deadlines, or those that cannot work within the queue, are subject to an additional fee.
At a Glance
12″ x 15″ Plaque – (Routed Edges) – $199 (base price)

Includes 10 Names
Additional Names $5 each
Add Birthstones $20

12″ x 24″ Plaque – (Framed) – $325 (base price)

Includes 16 Names
Additional Names $5 each
Add Birthstones $25